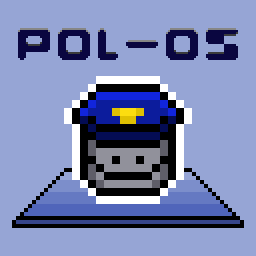 POL-OS
A downloadable POL-OS for Windows
POL-OS Alpha Demo
(0.2.2)


A BOSS RUSH where you'll help an intergalactic patrolman to stop (or maybe not) the offenders that are causing the slow destruction of the planet Elementos.



FIGHT and DEFEAT the OFFENDERS that are causing conflicts on the planet, then JUDGE them based on the damage they're causing.


Every OFFENDER has a PERSONALITY so they will behave differently in battle!


Once the OFFENDER is DEFEATED, you can set them FREE, put them on JAIL or INCAPACITATE them. Some will try to BRIBE you with money and special items, so be careful.


Multiple ENDINGS and OFFENDERS to confront based on the JUDGMENTS that have been made! (Work still in progress ;))


Will YOU and Max be the saviours of the planet Elementos inhabitants or will you accelerate their exctinction?


= MISC =
Website: https://www.pol-os.com/

Twitter: https://twitter.com/POLOSTHEGAME
Music: Eric Skiff - Song Name - Resistor Anthems - Available at http://EricSkiff.com/music